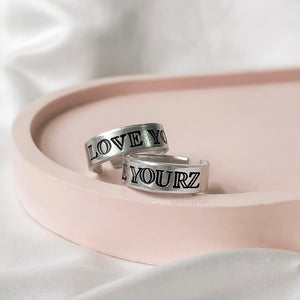 A piece that holds a gentle reminder to love and appreciate what's yours.
Each letter is individually hand stamped onto the aluminum ring. The beauty of these unique pieces lies in their tiny variations since no two pieces are exactly the same.
We put in a lot of love and energy in every single piece to create a personalized experience for you!
Sizes: US 4 - 6 (adjustable) & US 7 - 9 (adjustable)
Jewelry Care:
We want your lovely piece to last and to look its best. We recommend the following:
Do not overbend when adjusting as it can cause the ring to break
Try to avoid any contact with water and moisture
Always remove before bathing, swimming, and sleeping
Store your jewelry in a safe box or bag to avoid scratching or bending